Referral traffic in GA4 refers to a session that originates when the web browser of the user passes a referrer, indicating that the session began from an external source such as a website, social networking platform, or directory sites. The latest update of Google Analytics, known as GA4, gives you information on the performance and the way visitor's behave on your website.

If a Google Analytics 4 session begins without the web browser of the user passing a referrer, it is classified as a 'direct traffic' in the reporting.
Technically, any traffic that comes from another website and goes to yours is referral traffic (as far as the web browser of the user passes along the referrer). However, GA4 does not classify the majority of PPC/CPM advertising (such as Google Ads) and search engine traffic as the referral traffic.
In GA4, How Do You See Referral Traffic?
By doing the actions listed below, you are able to see referral traffic within the GA4:
Step 1:  Click on "Reports" in your left-hand navigation after opening your GA4(Google Analytics 4) reporting view:
Step 2:  Access the "Traffic acquisition" report under "Acquisition":
Step 3: Continue scrolling the report down until you reach the search bar: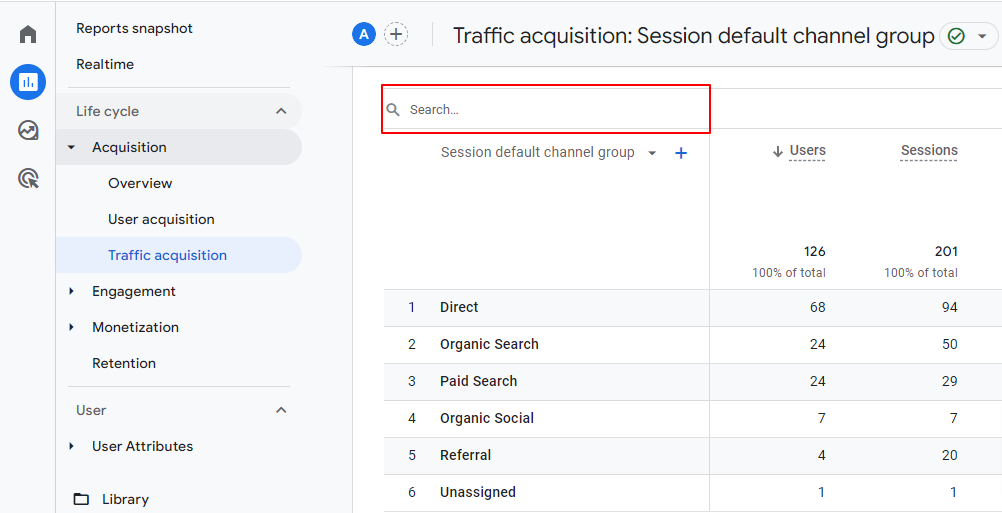 Step-4: In the search field, type "referral," and then click the enter button.
You ought to now see the screen shown below:
Step-5: Select "Session default channel grouping" from the drop-down menu:
Step-6: In the drop-down option, select "Session Source/medium":

Now, GA4 should allow you to view all referral traffic.
Read Also: Understanding Event Parameter in Google Analytics 4
What Does GA4's 'List Unwanted Referral' mean?
In Google Analytics 4, this term refers to a function that enables users to make a list of undesired referral sources. Users can identify these sources and have them excluded from referral traffic data for their website, allowing for a more accurate analysis of valid referral sources and a reduction in spam or irrelevant traffic.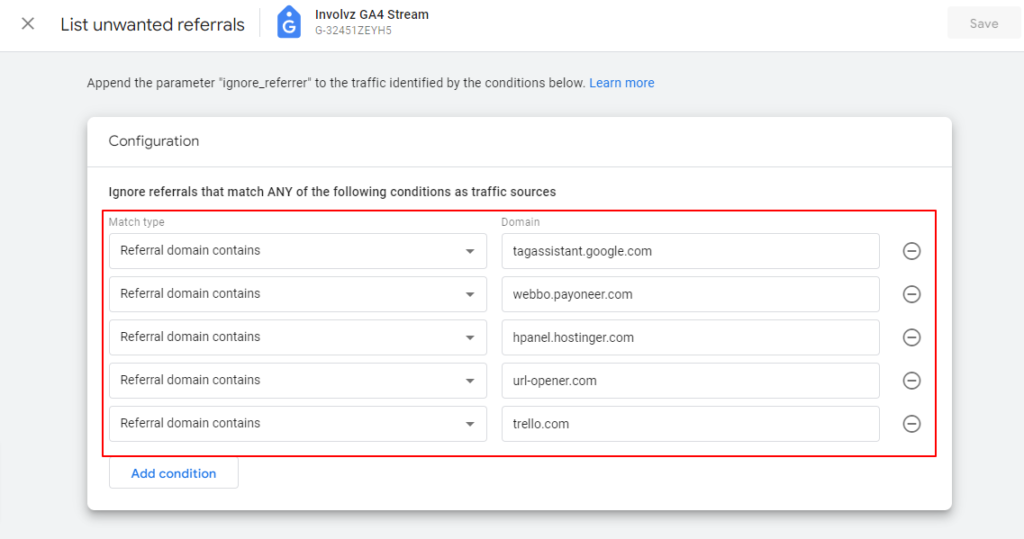 Referrals Exclusion List Versus List
Unwanted Referrals
In GA3, the "referrals exclusion list" function operates similarly to the "List unwanted referrals" function.
A referral exclusion list is used to compile a set of domains who's traffic might be recorded as a direct traffic rather than a referral traffic. A referral traffic via specific domains (such as your personal domain or even a method of payment like "PayPal") won't appear in the GA4 analytics in this way.
'List unwanted referrals' is the name given to a 'referral exclusion list' in the context of GA4.
It should be noted that when a domain is added to a "list unwanted referrals," GA4 analyzes all events from that domain and includes the "ignore_referrer" parameter along with the value "true" for each event that satisfies the criteria (ignore_referrer=true).
Automatic Self-Referral Detection in GA4
As far as all of the following requirements are fulfilled, Google Analytics 4 can automatically identify and resolve self-referral problems (where visitors from your personal domain show up as a referral traffic).
 The domain you are using appears in the referrer, and a global site tag can be found in a current URL.
 A "_gl" parameter in a current URL and the referrer are both outcomes of a cross-domain tracking configuration among the domains that you own.
It should be noted that when a linker parameter "_gl" is used to transmit analytics cookies across one domain onto another when cross-domain tracking is enabled. If a user visits a page on your website that lacks a global site tag, the automatic self-referral detection function in GA4 won't be capable of resolving the self-referral problems.
Therefore, adding a domain name into the list of unwanted referrals is the most effective practice:
How to Set Up GA4's List Unwanted Referrals List?
The steps are as follows:
Step 1: Click 'Admin' after opening the GA4 view:
Step 2: In its 'Property' column, select 'Data Streams':
Step 3: Select the website's Data Stream name in which you intend to set a list unwanted referrals by clicking on it.

Step 4: Completely scroll down and click the link labeled "Configure tag settings"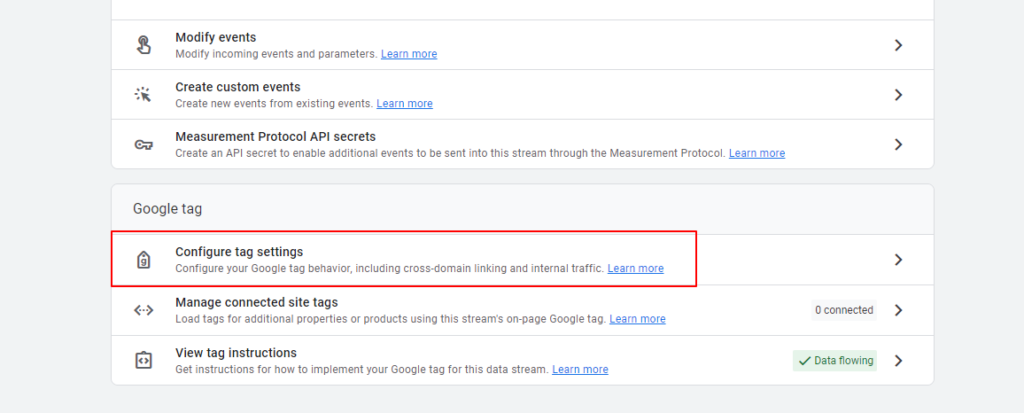 Step 5: Select "Show all" from the menu: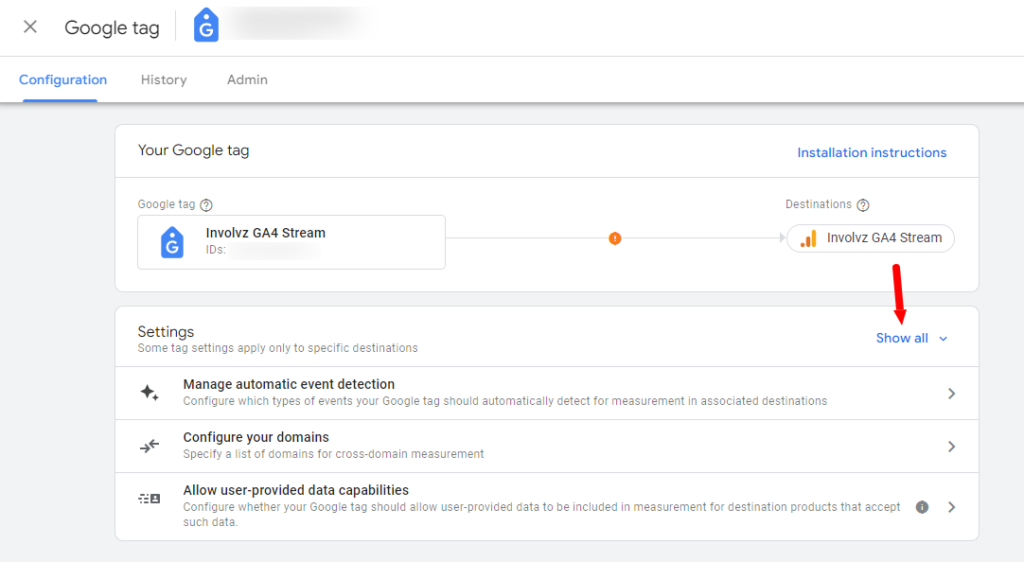 Step 6: Navigate down and click the "List unwanted referrals" link.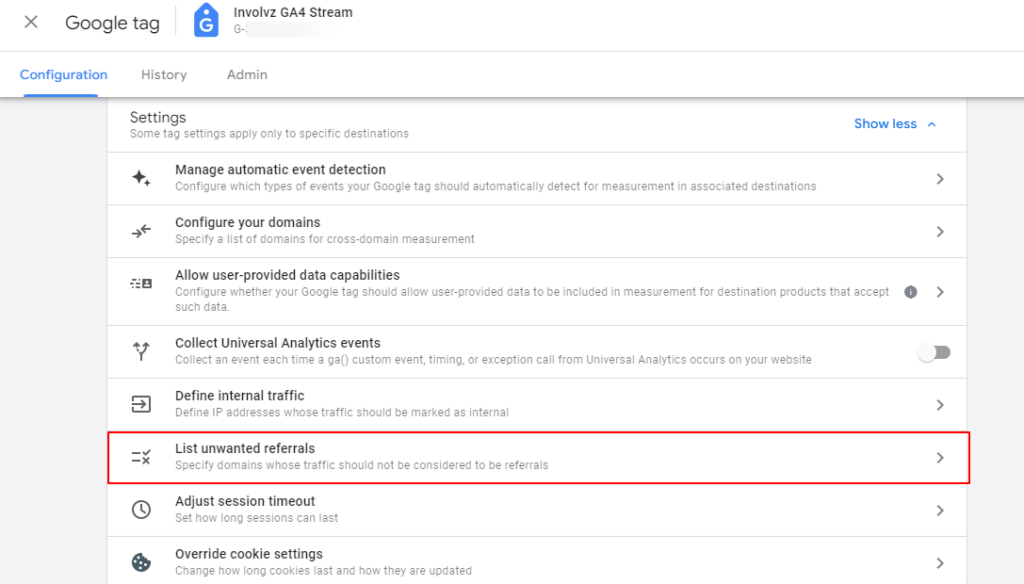 An overlay similar to the one shown below should now appear: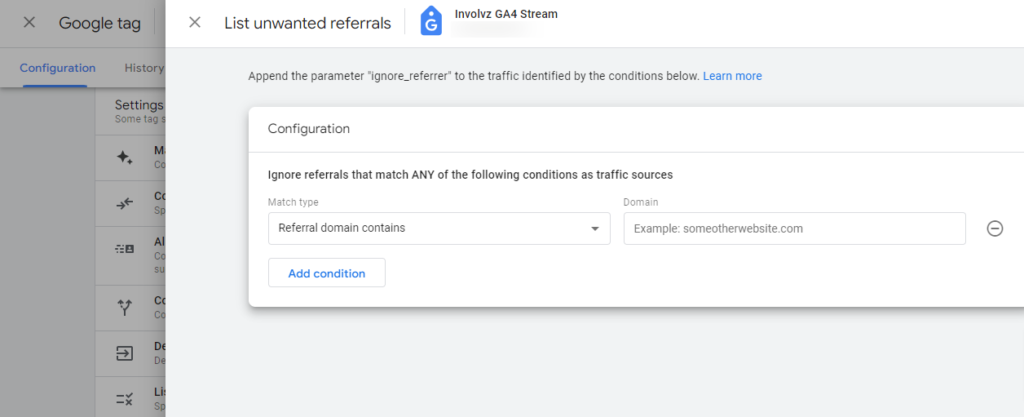 Step 7: In a "Domain" text box, add any domain name that you intend to add, and then click "Save":

Step 8: Click the "List unwanted referrals" link once more to add other domains into the list.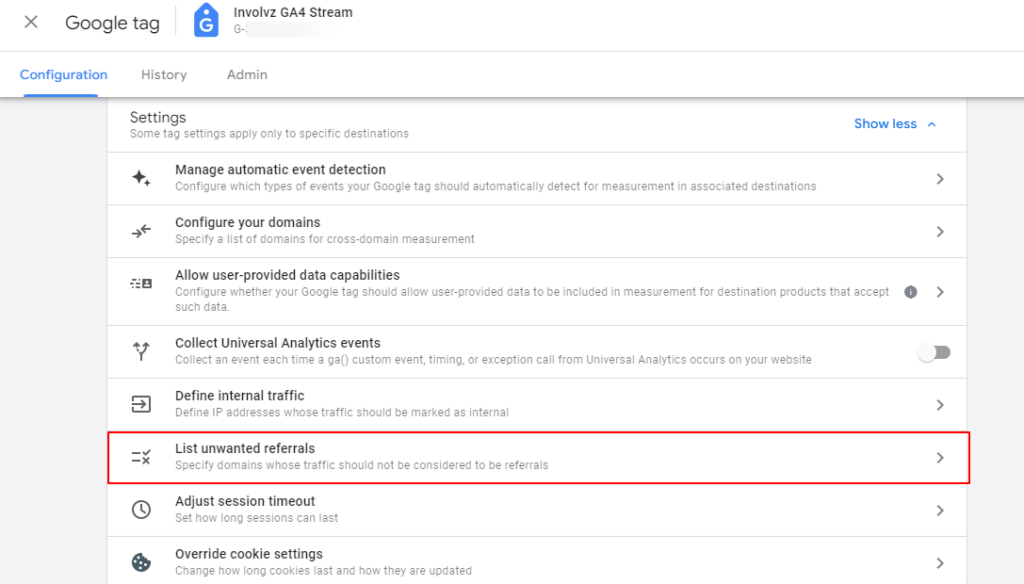 Step 9: Select the listing that appears.
The 'Add Condition' icon should be now seen:

Step 10: Select the "Add condition" icon, add the desired domain name, and then select a "Save" button: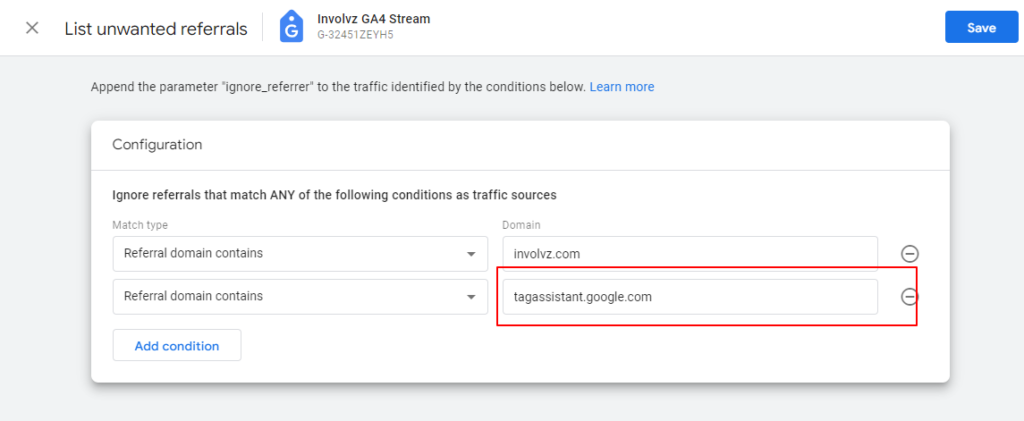 It should be noted that the OR logic is used to analyze conditions.
Congratulations!
The unwanted domain(s) have been successfully added to your referral list.
From this point forward, traffic from other domains won't show up as referral traffic.
It should be noted that list unwanted referrals is not applicable to previous referrals. Therefore, the domain that you put to a list unwanted referrals can still show up in the GA4 reports for previous data.
Related: Data Filters In Google Analytics 4
How often should I implement "List unwanted referrals"?
You may not would like to label the traffic in Google Analytics 4 as a referral traffic in a number of circumstances:
Your domain should be added to a "List unwanted referrals" if you intened to dodge self-referral problems (where the domain you own appears as the referral traffic):

If your website requires users to be redirected to a third-party website, such as PayPal, to complete a purchase and then return to your site, the traffic from the payment gateway (e.g., paypal.com) would be categorized as referral traffic. However, to ensure consistent measurement across your entire domain, it is desirable not to classify traffic from PayPal as referral traffic.
To maintain accurate reporting and exclude irrelevant referral traffic, it is recommended to add PayPal traffic to the "List unwanted referrals" in order to remove it from your referral traffic data. By doing so, you can ensure that the traffic from PayPal is not categorized as a referral traffic in your analytics reports. may also like to read about How to Use Google Analytics for Marketing

Website users interactions handled  by the third-party domains
In various situations, it is common for website user interactions to be handled by the  third-party domains. One example is when you utilize a third-party domain or service to manage processes such as password reset emails or registration confirmation emails for your users.
In scenarios where users are redirected to a third-party domain after clicking on the link in an email, and then subsequently redirected back into the website, it is advisable not to classify a third-party domain as referral traffic. To achieve this, it is recommended to include the third-party domain in 'List unwanted referrals' in order to exclude it from referral traffic categorization.